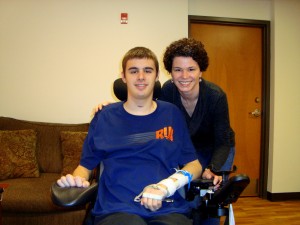 September is National Spinal Cord Injury Awareness Month. I wanted to raise awareness by sharing the story of my client, David Hudgik, and his inspiring healing journey after sustaining a serious spinal cord injury. Thank you to the Hudgik family for allowing me to post their story on my site.
Late last September, I received a phone call from a woman named Kathy in New Hampshire, inquiring about Reiki sessions for her teenage nephew, David, and his mother, Barbara. David had fractured his C4 and C5 vertebrae, and was being flown to the Shepherd Center here in Atlanta for rehabilitation, following surgery to stabilize his cervical spine. (The Shepherd Center is one of the top rehabilitation hospitals in the country for treating people with spinal cord or brain injuries.) Kathy indicated that she wanted to provide Reiki sessions for both David and Barbara during their time in Atlanta.
David was 16 years old at the time, and a talented freestyle skier.  He sustained injury to his cervical spine after an improper landing on a trampoline. Barbara told me later that she had always feared something like this would happen, but thought it would happen on the ski slopes, not in her backyard. The accident left him a quadriplegic, and it was a potentially devastating in that David might not be able to do what he loved the most.
David and I didn't know until a few months later that we shared a connection of sorts. His accident occurred on my birthday. It seems the universe brought us together to do this work for a reason.
We also share an indirect connection. I was born with congenital cervical spinal stenosis, which causes narrowing of the spinal canal in the neck. Nearly 20 years ago, I experienced a complete loss of sensation and impaired motor control in my left arm and spent almost a week in the hospital. I'm at increased risk for transient or permanent quadriplegia if I sustain a serious blow to the head or whiplash. What brought me to Reiki in the first place was chronic neck pain. When David experienced nerve pain and muscle spasms from his injury, I understood completely what he was feeling.
Upon meeting David, I was immediately impressed by two things: the deep, steadfast loving support of his family, and David's own strength and optimism. David had a determination about him that the machines and tubes he was hooked up to at the time couldn't hide. You can understand this when you see the breathtaking photos of him doing back-flips on skis. It takes years of practice, desire and natural ability to consciously defy gravity as he did. Now David had to relearn to defy the limitations of his body in a completely new way.
During my first session with David, his mother and I noticed how quickly he responded to Reiki. He had been at the Shepherd Center about a week when I first came to see him. His system was still struggling to regulate basic functions, including breathing, blood pressure, and temperature. I stood at one side of the hospital bed, giving Reiki treatment to him when Barbara noticed that the monitor for the mechanical ventilator indicated he was taking more unassisted breaths. When I stepped away, his breathing dropped. She asked me to repeat the hand positions again by his chest wall, and his breaths increased. Later, David indicated to us that it was easier to breathe and he experienced less sensation of pressure on his lungs.
People with serious spinal cord injuries often have difficulty regulating core body temperature. When I walked into his room, the heat would be turned way up, but he was cold and often shivering uncontrollably. Once I began the Reiki sessions, he was warm and comfortable. It's one of the things David liked about receiving Reiki – it worked better than any blanket!
My sessions with David were scheduled after he completed his daily rehabilitation activities, so he was exhausted and often in significant pain. It was very reassuring for both me and Barbara to see him drift off into a deep, relaxed sleep during the Reiki sessions. I was also able to give Reiki treatment to Barbara to keep her balanced and supported while providing around the clock care for David.
It was inspiring to see David make progress over the 4 months he was at the Shepherd Center. One that stands out in my mind was the day I walked in and he was finally able to talk to me after being weaned off mechanical ventilation! (And in typical teen boy style, he then offered to show me the video his sister took as the tube in his trachea was removed. I declined, much to his amusement.)
David liked the Reiki sessions and would ask Barbara each week when I was coming to see him. Initially, David's sessions were conducted with him in the hospital bed, but as he regained strength, he was able to sit in his wheelchair. During his sessions, his legs –unable to move on their own – would twitch and even bend at the knee in response to Reiki. Spasticity is common in people with spinal cord injuries. The extent to which David's muscles contracted was surprising, especially early on in his rehabilitation. Often, my hands were usually nowhere near his legs at the time.
Although a quadriplegic, David had always had some use of his right arm, which continues to improve as he regains strength and mobility. After returning home to New Hampshire, he surprised everyone by taking a trip down the slopes on a special sit-ski, assisted by ski instructors. One of his goals is to make the transition to a manual wheelchair. Recently, David reported he was able to move his left thumb. He is also beginning to regain some function in his abdominal muscles.
Barbara took Reiki training with me before they returned home to maintain her own well-being and provide additional support to David. There are plans in the works for him return to the Shepherd Center for additional rehabilitation work, and David has already told me he wants me to visit so he can receive more Reiki!
It was clear to us that Reiki was a beneficial supportive therapy for David in those first few months following his injury. Reiki was also of comfort to Barbara as she dealt with the emotional shock of her son's injury, and the transition to resuming her role as a physical caregiver. As David's body and nervous system continue to regain functioning, Reiki can help ease discomfort from muscle spasms and neuropathy, promote relaxation, and support positive emotional well-being.
People living with spinal cord injuries as severe as David's require assistance around the clock to help them manage basic functions. The first year costs can range from $300,000 – 1 million, depending on the severity of the injury, and insurance doesn't cover all expenses. Plus, a spinal cord injury changes every facet of one's daily life – housing and transportation needs have to be factored in as well.
If you'd like to read more about David and find out how you can help support his remarkable journey to recovery, visit the website his devoted family has created on his behalf.