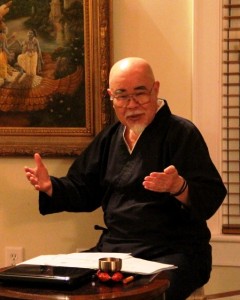 Komyo Reiki Kai founder Hyakuten Inamoto will be visiting in Atlanta at the beginning of November to offer his Komyo Reiki Kai Immersion Weekend training for qualified Reiki practitioners.
On Friday, November 1, Mr. Inamoto is giving a public talk on the history of Reiki. An internationally known authority on Reiki, Mr. Inamoto will offer an interactive discussion and slideshow on the concepts, development and spiritual practice of Reiki.
Mr. Inamoto is the founder of Komyo Reiki Kai, a style that remains close to how Reiki was understood and commonly practiced in the 1930's in Japan. Komyo Reiki Kai places emphasis on spiritual development through the healing art of Reiki Ryoho.
Anyone interested in learning more about Reiki is welcome to attend! This is a unique opportunity to learn about Reiki from the Japanese perspective, as well as its roots in Buddhist and Shinto practice. A Buddhist monk, Mr. Inamoto offers insights  into the spiritual foundations of this gentle, yet powerful, Japanese healing art.
Register early, as space is limited!
Event Information
Time: 7:00 – 9:30 PM
Location: Self Discovery Center (1315 S Ponce De Leon Ave. Atlanta, GA 30306)
Early Registration Fee: $20.00
Fee on day of event: $25.00 – CASH only
Payment options:
PayPal (a .50 transaction fee is added to all Paypal orders)
Check
Make check out to Dana L. Young and reference "Inamoto Public Talk" on the check face. Mail to:
Dragonfly Reiki Healing Center
407 W. Ponce de Leon Ave.
Decatur, GA 30030
We look forward to having you join us for this special evening!
(Photo credit: Dana L. Young)