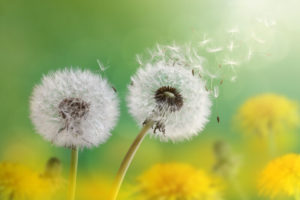 Many of the clients I work with are seeking change – and are afraid to loosen their grip on their current situation in order to allow for that shift to occur. Sound familiar? We all do it, because desire and attachment are inherently part of our human nature, and also because we are conditioned to think we need to work harder and be "in control" of how our lives play out.
In some respects, this is true. Change does require effort on our part – the willingness to think, believe or do things differently than we have in the past. And yes, we do need to take responsibility for our lives and the choices we make. But sometimes we are so afraid of releasing our grip on that thing we desire or that belief we have that we don't allow ourselves space to open up to receive anything new or better.
During a recent client session where we were exploring this very topic, lyrics from a .38 Special song popped into my head. When we are opening ourselves up to inspiration and Divine guidance, you never know what you might receive, or in what form it might take. In my case, it may be a Top 40 music selection from the '70s and '80s, but the messages are always spot-on!
…Hold on loosely
But don't let go
If you cling too tightly
You're gonna lose control
The song is about "good love gone bad" (and we all have at least one of those stories!) but the lyrics in a larger sense speak to many aspects of human behavior about attachment and fear of change. We aren't free to experience any of the goodness awaiting us if our hands and hearts aren't open enough to receive it.
Sometimes we do have to let go completely, but many other times all we need to do is loosen our grip enough to bring some new energy and perspective into our situation. Our attempts to maintain tight control only lead to more fear, anxiety and anger. When we resist change, we are playing tug of war with the universe and blocking a reciprocal, abiding flow that helps maintain harmony.
Relaxing our grip and allowing for change gives us back our freedom. The Zen Buddhist monk Thich Nhat Hanh expresses this perfectly: "If, in our heart, we still cling to anything – anger, anxiety, or possessions – we cannot be free."
Here are some questions to ponder the next time you feel yourself clinging too tightly:
On a scale of 1 to 10, with 1 representing the least amount of stress and 10 representing the most amount of stress, how would you rate the situation, issue or habit affecting your life?
How empowered would you feel inside if you loosened your grip on this situation, issue or habit?
What freedom would you experience in your life if you loosened your grip on situation, issue or habit?
What potential would you realize if you loosened your grip on situation, issue or habit?
It may take time, but by opening up yourself to change and the possibility it offers, you will actually regain control of your life path again – experiencing greater peace, and enjoying positive flow of abundant well-being coming your way.