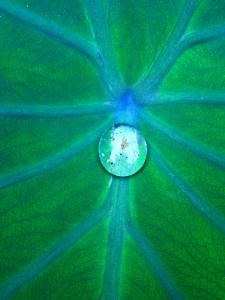 In April, it will be 10 years since I took my first Reiki class. There are honestly very few things I have done or experienced that have changed my life forever, but learning Reiki is one of them.
It hardly seems possible that a decade has gone by since receiving energy healing for the first time while on a trip to India – an experience that led me to Reiki and all of the wonderful gifts this healing art has brought into my life.
There's a lot of emphasis especially in the West on Reiki as a technique for physical healing, and in my years as a practitioner, I've been witness to amazing and sometimes astonishing healing experiences in my clients and loved ones. I've also personally benefited from improved physical health, including remission from a chronic illness and a strengthened immune system.
But Reiki has become my practice for life because of what it has done for me mentally and emotionally. This is a work in progress that is still unfolding as we speak. Just the other day, I was doing something fairly mundane, thinking a little bit about my life. I realized how quiet my inner critic has been, especially in the past year or so. That is HUGE, folks! I have my moments like everyone else, but that perfectionistic persnickety curmudgeon is a lot less present these days and I am much happier for it.
There are other things too – fewer episodes of depression and anxiety, and deepened faith in the universe to support and guide me. I'm not immune to worry, but I do have a lot more gratitude for my life, which is the biggest spiritual lesson of the Reiki Precepts. Gratitude is the antidote to anger and worry, and is the medicine that cures us of FEAR (False Evidence Appearing Real.) I like this kind of medicine because it heals from the inside out and all the side effects are good!
What has your Reiki practice done for YOU? Have you let your practice go? What will you gain if you reconnect with your Reiki practice or go further on your journey to experience your true self? Know that I am here for you, cheering you all the way.
Learn more about the benefits of spiritual health and practices such as Reiki, to deepen and support peace and well-being. Read Into the Mystic, published in Best Self Atlanta magazine, featuring suggestions from Reiki Master Teacher Dana Young.