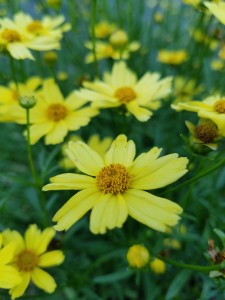 Recovering from major surgery definitely makes me appreciate the good health I usually enjoy. A little over a month ago, I had a total laparoscopic hysterectomy and pelvic reconstruction, including other corrective and diagnostic procedures. It was very major surgery.
After 5 weeks, I'm getting around pretty well and back to seeing clients, but haven't been fully cleared for all activities. Healing requires patience. A lot of it.
That being said, I wanted to share several lessons from my recent experience that I am grateful for and still learning into as I continue the healing process.
Sometimes medical interventions may be necessary
Many of us have come to the holistic healing arts after having a profound experience with a complementary therapy that improved our health or well-being. My experience with Reiki brought about significant improvement in chronic pain issues, including neck and upper back pain, gastrointestinal problems, and bladder/pelvic pain due to Interstitial Cystitis, an inflammation of the bladder wall lining. I was – and am – a Reiki success story.
Over the past year or so, I began having episodes of pelvic pain and functional issues. Among other things, I was concerned that Interstitial Cystitis had returned after a ten year remission. I attempted to treat the symptoms using the self-care techniques and complementary approaches that had helped me in the past, with limited success. I finally found a doctor who specialized in my issues and learned that I had pelvic prolapse. Pathology later confirmed that I also had adenomyosis (endometriosis confined to the uterus.) Although this diagnosis was a surprise to both me and my doctor, these issues actually stemmed from birth complications I experienced when my daughter was born 9 years ago. (Good news, though: the bladder cystoscopy happily confirmed that no inflammation was present. It was all referred pain.)
In the wellness community, shame or blame can accompany a diagnosis or relapse of a serious health issue. Our bodies are amazing and are capable of healing in astounding ways. The more we can support our body's homeostasis, the better off we are. However, aging, injury, environment, or emotional trauma can exert influences we can't always control.
While I couldn't "fix" my pelvic prolapse issues with Reiki, I could support my overall well-being before and after surgery with my daily self-treatment. Prior to and following my surgery, many supportive friends visited and offered their healing hands with Reiki, Healing Touch and Reflexology sessions. It helped me prepare mentally and emotionally for surgery, eased post-op pain and boosted my recovery. I'm back in the office and feeling better every day.
Learn to say no
This may be the hardest lesson I am still learning. I'm a high-functioning person, and I can keep going for a long time. I will often push myself until I'm exhausted or burned out. The past 3 years have been increasingly busy and stressful for my family, and I was continuing to pile it on. Even when I was in pain almost every day because of the pelvic prolapse, I kept taking clients 6 days a week, then running home to take care of my family, and working another part-time job for my church.
The unrelenting stress and my health issues finally forced me to step on the brakes. I transitioned out of the church job in early June. In mid-July I had surgery and for 3 weeks, I couldn't work at all. There are things I physically still can't do. I've had to say no to everyone but me and focus on my recovery. Even though I'm working again, I'm now restructuring my time to better serve my health – and yours.
I'm also learning to say no to the inner voice that urges me to achieve, achieve and do more. I'm now asking that voice, "Why? What purpose will this serve? Does it really matter?" The answers I'm getting are surprising – and liberating.
Rest. Relax. Repeat.
Resting and relaxing aren't high on my to-do list. I can manage it when I'm at the beach, but rarely at home. Three weeks at home, most of it CONFINED TO MY HOME taught me a lot about my habitual impulses, need for control and low tolerance for boredom. Sometime earlier this year, I wistfully longed for free time to read, write, and enjoy the quiet. Next time, I am going to be more specific about my requests. The universe has a sneaky sense of humor!
I have never sat around doing so little in my entire life. There are only so many books, so many Netflix binges. But I learned quickly that not resting can lead to a painful setback. I spent two days in bed after climbing stairs too soon. Healing is not always linear. It is a process that requires rest – a lot of it. A burst of energy that leads to increased activity one day may mean needing to take it easy the next. Sleep is one of the main ways our body initiates the healing process, restoring endocrine and cellular function, while also inhibiting inflammation.
Although I'm definitely on the mend, my body is quick to tell me when I need to get off my feet and rest. Before, I ignored it. Now I am paying more attention. My husband said he was proud of me for leaning into my relaxation. I might even get good at this eventually and start napping!
Ask and you shall receive (help)
I am so grateful for the care I received during this whole recovery process. People near and far generously offered their help – including a neighbor I didn't even know who contributed to a meal train! The individual and collective actions of many people could fill a couple of paragraphs. It truly was an amazing outpouring of love.
I needed a lot of help getting through this time and have been deeply humbled by the response. When I originally scheduled the surgery, I resisted asking for help. I'm glad I got over myself. There's no way I could have done this without significant support. It would not have been healthy or safe. The help my family and I received made it possible for me to focus on healing, which is all I needed to be doing during this time. We were fed, the house was (mostly) clean, and I received many visits from wonderful friends and neighbors that lifted my spirits each day.
Thank you to those who checked in to see how I was doing, or sent thoughtful cards and gifts. I appreciate it so much, and I'm glad to be back in the office offering up some Reiki love again.