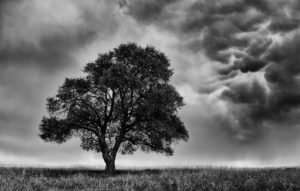 In the days leading up to and following the recent Presidential election, I have been thinking about the teaching on non-attachment from the Dhammapada (the Buddha's Path of Wisdom) that my teacher Hyakuten Inamoto, founder of Komyo ReikiDo, includes in his Reiki training:
"Praise and blame, gain and loss, pleasure and sorrow come and go like the wind. To be happy, rest like a giant tree in the midst of them all."
We live in a world of duality, where we can veer suddenly from elation to despair depending upon our individual and shared circumstances. When we are triggered, or dealing with a loss, or fearing for our safety, it's so easy to feel like that tree in a storm whose roots are pulling up from the earth. Emotionally, we become ungrounded, and anxiety and depression can begin to spiral out of control.
We've had a severe drought here in the Southeast for most of this year. I've been reading about what well-established trees do in a drought. At the simplest level, a tree's shallow roots closer to the surface do die, but the main taproots dig deeper into the earth to absorb moisture. Obviously at some point, trees do need water or they will not survive, but they adapt remarkably well to preserve themselves for a longer time than you'd expect.
The deeper the taproots, the more resilient the tree becomes to surviving both the drought and the storm. The tree doesn't rely only on what's easily available closer to the surface of the earth. The roots of a healthy tree extend out about 1.5 times the height of the tree and under ideal soil and moisture conditions can grow up to 20 feet deep. This network of roots help keep the tree more stable when wind and rain threaten to topple it over.
Times of drought, calamity or despair are when we need to dig deep into our spiritual practices, to help us find our unshakable source of strength and reserves.
The happiness the Buddha speaks of is not the state of giddy excitement most of us tend to associate with the word. Happiness in this context is equanimity, or calm abiding. A state where, no matter what is happening, you can draw from a deep well within to keep you from breaking and toppling over. This is not easy to do, and we are in the midst of some very troubling and increasingly uncertain times.
Do you know what you are?
You are a manuscript of a divine letter.
You are a mirror reflecting a noble face.
This universe is not outside of you.
Look inside yourself;
everything that you want,
you are already that. – Rumi
More than ever, we need to be practicing love, compassion and developing inner strength – the attributes of spiritual warriorship. When we most want to run and hide, we need to be still and present: watchful, aware and hopeful.
For Reiki practitioners, some of the practices we use to help cultivate spiritual resilience are self-healing, self-inquiry, meditation, chanting the Reiki Precepts, mindful awareness of our actions and thoughts, and selfless service to others. Depending on your own religious and spiritual traditions, you may also choose to incorporate other practices that help you connect with the abundant and compassionate force of love eternally present in the universe. The sages, prophets and ascended masters that came before us gave us many instructions, tools and signs. It is up to us to use them for our good and for the good of the world.
Buddhist teacher Pema Chödrön reminds us: "A warrior accepts that we can never know what will happen to us next. We can try to control the uncontrollable by looking for security and predictability, always hoping to be comfortable and safe. But the truth is that we can never avoid uncertainty. This not-knowing is part of the adventure."
A spiritual warrior offers light in the midst of darkness. The warrior has the resilience to sit with the storm and not run away or fall over. They are the bridge between heaven and earth, rooting down for stability and sustenance, while lifting their arms up to the sky to transform light into energy for growth.