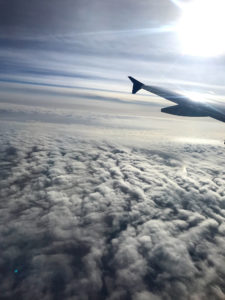 Have you ever had that experience of being on an airplane and the pilot gets on the P.A. to let everyone know there's a ground stoppage at your airport due to a storm and they can't land? Instead, the pilot circles the plane for an indefinite period of time before being given the all-clear to land.
There are times in life when we get stuck in a holding pattern, whether that's a job, school, health, relationship or other issue. Sometimes it's temporary and the issue resolves without much impact. But other times we find ourselves going nowhere in circles, bouncing around with no destination in sight. It's frustrating at best and at worst, it can make us sick.
To take this analogy even further, we've all seen recently on the news what happens when people are delayed, stranded, and even harmed as a result of major system failures. If you think about this in terms of energetic patterns, a ground stoppage that leads to circling flights, then delays, and cancellations eventually causes a bottleneck that impedes the flow of air traffic and travel. And so it is with our body, mind and spirit. We can handle a couple of temporary delays or set-backs, but if we keep overcompensating without proper self-care, receiving caring support, or insisting on doing things because "that's how we've always done it, " well, you know what happens next.
Sometimes we need help getting out of that holding pattern with the help of healers, therapists, or coaches who can guide us to see a new path toward sunnier skies and direction in our life or our health. Like everyone else, I have needed that help from time to time. I've amassed my "flight crew" who help me see the 30,000 ft. view more clearly, chart a better course, and get grounded safely. Have you assembled your flight crew?
One of the many reasons I love Reiki healing so much is because it works on all levels – physical, mental, emotional and spiritual – for energetic balance, emotional centering, deeper clarity and insight, and greater peace. Reiki healing works without us having to do anything other than show up, and be willing to receive what will support our highest good. It's that easy – and amazingly effective.
This message to you came about as a result of my daily morning Reiki self-treatment. I've been dealing with an ongoing flare-up of TMJ (pain and dysfunction in the jaw and surrounding muscles) that has been challenging to relieve. As I was offering myself Reiki, the phrase "you're stuck in a holding pattern" popped into my head. I knew it had to do with my jaw and another recent issue on that same side. Reiki often acts like my energy detective – it helps me to identify the root cause. Then, I can begin to discern what else may be needed to support the healing process.
Are you ready to get out of your own holding pattern? I'm there in the jump seat if you need me for Reiki healing or spiritual coaching. I'll do my best to help you experience smoother sailing and an easy landing on your journey to improved health and well-being. (I might even have in-flight snacks, if I can keep my hands out of the bowl of chocolate!)