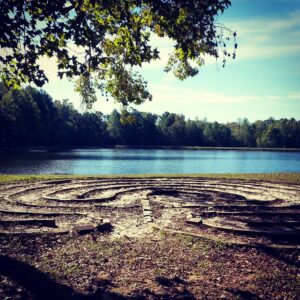 One of the truths I've encountered in my own life and in working with clients is that the healing process can be unpredictable. There is no straight line to healing, especially where certain chronic conditions are concerned. That can be very challenging for the person involved, and sometimes for those who love and care for that person as well.
I was recently walking the labyrinth, an ancient practice for facilitating meditation, insight and spiritual transformation. The path you walk through twists, turns and seemingly doubles-back on itself before reaching the center. The labyrinth can be seen as a metaphor for our life's journey, and can teach us a lot about healing too. The journey of walking the labyrinth is a lesson in learning to let go, to rest, and to integrate all aspects of the experience. This process is how we return to wholeness in body, mind and spirit.
When a health issue arises, the usual course of action is to follow the doctor's orders regarding treatment and assume you'll heal and return to normal. In many cases, recovery goes reasonably well and life goes on. Sometimes it doesn't. You may know what that experience is like – exploring different treatments, visiting different doctors, trying new supplements, diets, exercise, therapies and practices. This can be a good in that you may find the combination of approaches to improving your health and supporting your well-being.
This experience can also be difficult and emotionally exhausting. You just want to feel better, to have the health and vitality you once enjoyed. That feeling is completely understandable and it's hard to accept that your recovery is taking longer than hoped.
The healing process can be like a labyrinth.
Just when you think you're moving along the path, it suddenly doubles-back and it seems like you're further away than you were before. Or it may feel like you're back where you started. The more you try to "fix" our issues, the more confusing and frustrating the path can seem. It can be hard to rest with where you are right now in the journey and take slow, easy steps. To trust in the unknown.
Do you struggle to let go and allow the path lead you where you need to be?
It can be hard to examine the resistance you feel, the stuckness, the fear and worry. It can be hard to listen to your body and hear what it really needs from you. The answer isn't always about being free of emotional or physical pain or having more energy, even though that's a reasonable need. It may be about something else in your life or heart that has gone unattended or been subsumed. It may be about a change you need to make, or deeper truths that need to come to the light and be acknowledged. It may be about radical self-acceptance. It may be about forgiving yourself or others. It may call you to embrace a body or mind that doesn't work the way it once did, to love it in spite of its shortcomings and faulty functioning. Healing asks of us to seek for love even when things look and feel their most unlovely.
Like the journey through the labyrinth, the journey through healing is about manifesting wholeness in the center of your being, right where you are.
In wholeness, there is acknowledgement of truth, acceptance of what is to be, reconciliation of self, restoration of spirit, and deepened connection to others and the divine. It often takes walking that twisting, turning path to reach that center, where it's safe to rest and integrate the experience before moving forward to live in wholeness.
Where are you on the healing journey?
In the labyrinth the boundaries of the path, no matter how complex, are well-defined. The healing journey isn't always so clear. Guidance and support are needed as you make your way through this process. I often tell people that they need to assemble a team and a toolkit. The team helps provide the framework of support and feedback, while the toolkit includes the healing approaches or self-care practices for daily sustenance. Everyone's team and toolkit will look different, because everyone's journey is different. Just know that you don't need to walk this path alone.
(Image credit: Dana L. Young. Taken at Calvin Center, GA)