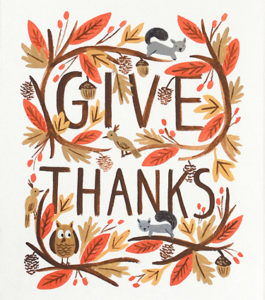 Thankfulness is our most basic, and important, spiritual practice. At the very minimum, we were taught as children to say thank you to adults who give us gifts or praise. Many of us were raised in households where saying grace was done before meals. And of course, at Thanksgiving, we are encouraged to give thanks for the abundance of food and family or friends with whom our meal is shared.
More than any other teaching or practice, giving thanks is the foundation for cultivating a spiritually-centered life. The Christian mystic Meister Eckhart said, "If the only prayer you ever say in your entire life is thank you, it will be enough." All worship – regardless of religion or spiritual affiliation – centers on thanks and praise to the Creator, Spirit or Higher Power. The instruction to live with thankfulness is also central to the Reiki Principles. Being thankful neutralizes the twin poison arrows of anger and worry by shifting your mind towards the abundance in your life.
Being thankful is a state of mind and a way of life. You may find it helpful to keep a gratitude journal, or write a list that you can post where you can see it with several things each day for which you're thankful. You will start to see a tangible pattern emerge of goodness that surrounds you, helping to sustain you even during difficult times.
Perhaps take a few moments in the morning or before bed to offer prayerful thanks for all of the things you may have – your life, your health, people who love you, a job, a roof over your head, and even the challenges you face from time to time that allow you to grow emotionally and spiritually. That last part may be harder. Many times we aren't thankful for serious health issues or financial troubles; often we're worried, angry or resentful. That's completely normal and understandable. Try shifting around the issue at hand to see the helpers, opportunities or small moments of grace you encounter in the midst of these difficulties. Hold this gratitude in your heart for these blessings when you're having a bad day and see how it helps lift your spirits. The more we practice thankfulness, the easier it is to access the positive energy it produces when we need it most.
"Let nothing put me to unease,
nothing to deceive.
I have conceived,
I exist.
Because I am blessed,
To gather time,
in hearing,
my breath,
so tranquil.
To life,
I am, thankful."
? Jasleen Kaur Gumber