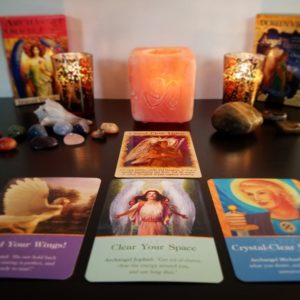 Angel oracle cards are one of my favorite tools for spiritual discernment because of their affirmative messages, positive energy and beautiful symbology. Angels and archangels occupy a holy and rightful place in many religious and spiritual traditions. While their appearance as recorded in the Scriptures and testimonies may have come as a surprise or shock to prophets and saints, the guidance and protection they offer is something we should welcome – not fear!
We all have spiritual gifts, and one of mine is clairvoyance, or clear seeing. From the time I was very young, I drew pictures, painted and wrote, and so naturally, it is through words, images and symbols where I get much of my deeper insight. The angel card readings I have offered over the years to friends, family and clients have been beneficial to those with whom I've shared them.
Are you interested in receiving additional spiritual guidance and insight through these soul-full and informative readings? A reading is approximately 30 minutes, to allow time for the message and detailed discussion.
Rates:
In-person or distance Angel card reading: $45
30 minute Reiki session + angel card reading: $85
60 minute Reiki session + angel card reading: $120
Distance Reiki session + angel card reading: $85
Contact me now via email to schedule your angel card reading.