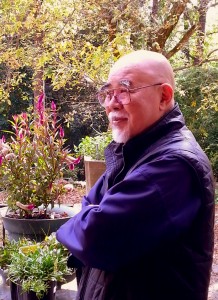 Hyakuten Inamoto is a non-sectarian, Japanese Buddhist monk from Kyoto, Japan. He studied all levels of Reiki with Chiyoko Yamaguchi, a student of Chujiro Hayashi. Hayashi was a student of Mikao Usui, the founder of Reiki Ryoho.
After learning from Yamaguchi and doing much research into the original teachings, Inamoto developed the Komyo Reiki Kai system in 1998 and began holding classes.
Internationally known as an authority on Reiki, Inamoto has been an invaluable consultant and translator to many authors including "The Reiki Sourcebook", by Bronwen and Frans Stiene, and "REIKI – A Comprehensive Guide", by Pamela Miles.
Komyo Reiki Kai® follows the teachings of Usui Sensei and focuses on healing not only the body, but most importantly, the soul or spirit. Usui believed that with spiritual improvement, the body would naturally be better capable of healing itself. Inamoto shares this belief.
Komyo = Great light or enlightenment
Reiki = Energy of the Universe
Kai = Association or group
Komyo Reiki Kai®, the system Inamoto has created, presents Reiki as it was understood and commonly practiced in the 1930's in Japan. This system places emphasis on spiritual development through the practice of Reiki Ryoho, aiming for "satori" or enlightenment.
Komyo Reiki is a "keep-it-simple" Reiki system and practice.
The practice motto is: "Place your hands, Surrender, and Smile."
There are four levels in the Komyo Reiki system:
Shoden (First Level)
Chuden (Second Level)
Okuden (Third Level)
Shinpiden (Teacher/Shihan)
Learn more about the
Reiki Lineage
and important teachers associated with the development of Reiki Ryoho.
(Thank you to the Komyo Reiki Kai international site for this information.)