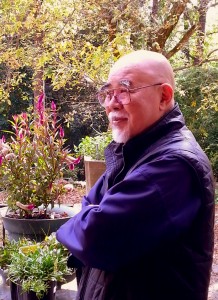 Hyakuten Inamoto, founder of KomyoReikiDo™ is a non-sectarian, Japanese Buddhist monk from Kyoto, Japan. He studied all levels of Reiki with Chiyoko Yamaguchi, a student of Chujiro Hayashi. Hayashi was a student of Mikao Usui, the founder of Reiki Ryoho.
After learning from Yamaguchi and doing much research into the original teachings, Inamoto developed the Komyo Reiki Kai system in 1998 and began holding classes. The name was changed in 2016 to Komyo ReikiDo.
Internationally known as an authority on Reiki, Inamoto has been an invaluable consultant and translator to many authors including "The Reiki Sourcebook", by Bronwen and Frans Stiene, and "REIKI – A Comprehensive Guide", by Pamela Miles.
Komyo ReikiDo follows the teachings of Usui Sensei and focuses on healing not only the body, but most importantly, the soul or spirit. Usui believed that with spiritual improvement, the body would naturally be better capable of healing itself. Inamoto shares this belief.
In Japanese, "do" means 'a way, or a path', especially in context with a spiritual training or practice. The emphasis of Komyo Reiki teachings have always been on Reiki practice as a 'gateway to spiritual awakening leading to Satori (enlightenment)'.
Komyo ReikiDo emphasizes the spiritual aspect (practice) of Reiki Ryoho, clarifying that it is more than a hands-on healing art. Komyo ReikiDo is a practice meant first and foremost to be a spiritual path for personal enrichment and enlightenment, with the enhanced hands-on healing ability as an outgrowth of that inner working.
Our practice motto is: "Place your hands, Surrender, and Smile."
There are four levels in the Komyo ReikiDo system:
Shoden: This introduction to Reiki teaches the basics of hands-on healing for self, family and friends, as well as energetic concepts, spiritual principles, and meditations to support your practice.
Chuden: This intermediate level teaches Japanese healing techniques for focusing energy, mental/emotional healing, and distance healing.  Additional traditional Japanese energetic and meditative practices are taught for personal and spiritual growth.
Okuden: This advanced level places emphasis on inner growth and the deeper spiritual aspects of Reiki Ryoho. Okuden training is intended for potential Teacher/Shihan candidates, and students must fulfill certain prerequisites first. However, anyone who has maintained a consistent practice with Komyo ReikiDo (including daily self-treatment and regular treatment on others) and participated regularly in Reiki-related activities (workshops, group practice nights, etc) is eligible to take training for personal growth.
Shinpiden: This level is for those intending to teach Komyo ReikiDo and become a Certified Shihan (Master Teacher). Candidates must sit for an interview to discuss their practice, be certified in all levels of Komyo ReikiDo, demonstrate a deep understanding of Reiki, have consistently practiced Reiki on themselves and others, and complete an apprenticeship program.
(Thank you to the Komyo ReikiDo international site for this information.)