What is Reflexology?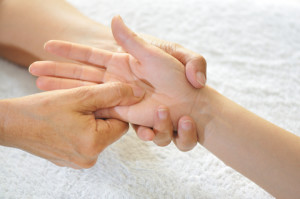 Reflexology is a complementary manual therapy that involves the systematic application of alternating pressure using the thumbs, fingers or hands on specific points, known as reflexes, located on areas of the body, including the feet, hands and ears.
It is an art and science, based on the theory that these areas contain 'mini-maps' that correspond to all of the glands, organs and parts of the body. Manual pressure and stimulation activates the nervous system response in the area of the body that maps to the reflex point.
Reflexology is helpful for reducing tension in the muscle tissue, improving circulation of the blood, lymph and neurons, resulting in reduced pain and better functioning. It should not be confused with massage therapy, because it does not specifically manipulate large muscle groups, tissue or fascia.
Reflexology benefits
Our feet, hands, and ears contain thousands of nerve endings, which make them sensitive and responsive to therapeutic touch. Reflexology provides natural, holistic support for the body to promote balance and healing, and is also used to help address specific issues.
I offer Hand or Ear Reflexology sessions, combined with Reiki healing, to support healing and offer relief for many health issues, including:
Relaxation and stress reduction
Headaches and migraines
Cervical, upper back and shoulder/arm pain
Digestive imbalance
Immune function and overall well-being
Fertility support
You may be asked some questions about your overall health and issues to determine which type of Reflexology session will be most beneficial to address your specific needs.
Note: Reflexology does not treat or cure diseases or conditions, and should not be a substitute for qualified professional medical care.
You may require approval from your doctor if you are receiving care for certain health conditions or issues. Potential contraindications include, but are not limited to:
Pregnancy (first trimester only)
Injury or infection to hands, arms or ears
Type II Diabetes (check with your doctor)
Cancer (check with your doctor)
Contagious diseases
Skin rashes
Research
(Image copyright by Steve Saran)