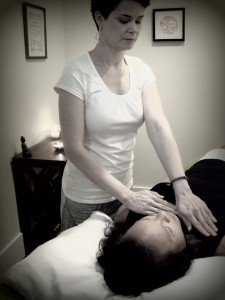 Learn Reiki healing and change your life for the better!
Reiki is a gentle hands-on healing art and spiritual practice that originated in Japan. Are you looking for improved health, balance and well-being? Learn Reiki – and healing is right in your hands!
Many people initially learn Reiki in order to experience physical healing for themselves and loved ones. With practice, they soon realize that their mental state is clearer, their emotional state is calmer, and their spiritual connection is deepened. The basics of Reiki healing are easy to learn and the benefits for mind, body and spirit last a lifetime.
I teach all levels of Komyo ReikiDo (formerly Komyo Reiki Kai), a true Japanese-style Reiki that presents this healing art as it was understood and commonly practiced in Japan in the 1930's. I was certified as a Komyo Reiki Shihan (Teacher) in 2010 by Hyakuten Inamoto, a Japanese Buddhist monk from Kyoto, who is my direct teacher and founder of the system (see my story.) I also received complete training in "Western" Usui style Reiki to the Master level in 2006, and have taught classes regularly since 2009.
In-depth Reiki training and continuing education
Reiki is so much more than a technique for hands-on healing; it is a complete lifestyle practice for personal well-being and spiritual growth. Reiki can be life-changing and transformational for those who take the practice seriously. Reiki practice is not so much what we do, but what we embody through our deepened (re)connection to the miraculous and sacred energy of the universe.
Why choose to train with me?
Teaching Reiki is one of my big joys in life and I am honored to share this practice with you. Additionally, I have taken full Komyo ReikiDo training several times with Hyakuten Inamoto, and hosted him twice in Atlanta. I offer comprehensive tools and support of the practical and spiritual aspects of to Reiki Ryoho (Reiki Healing Art) to help students make the most of their training and investment, including:
Official Komyo ReikiDo manuals
Student email newsletters
Group and individual mentoring
Private community Facebook group
Private student practice days
Continuing education opportunities, including in-person and online workshops
What is Komyo ReikiDo?
Komyo ReikiDo is a complete system of Japanese-style Reiki and each level is meant to build upon each other in the context of a Japanese approach to spiritual healing, philosophy and practice.
I welcome students from any lineage or level of practice, but please know that all students interested in learning Komyo Reiki are required to start at Level I (Shoden), regardless of previous training in other systems of Reiki, so as to ensure a full understanding of our approach to practice.
The Komyo ReikiDo system
In Japanese, "do" means 'a way, or a path', especially in context with a spiritual training or practice. The emphasis of Komyo Reiki teachings have always been on Reiki practice as a 'gateway to spiritual awakening leading to Satori (enlightenment)'.
Komyo ReikiDo emphasizes the spiritual aspect (practice) of Reiki Ryoho, clarifying that it is more than a hands-on healing art. Komyo ReikiDo is a practice meant first and foremost to be a spiritual path for personal enrichment and enlightenment, with the enhanced hands-on healing ability as an outgrowth of that inner working.
Shoden: This introduction to Reiki teaches the basics of hands-on healing for self, family and friends, as well as energetic concepts, spiritual principles, and meditations to support your practice. This class is taught throughout the year. See Classes & Events Calendar
Chuden: This intermediate level teaches Japanese healing techniques for focusing energy, mental/emotional healing, and distance healing. Additional traditional Japanese energetic and meditative practices are taught for personal and spiritual growth. This class is taught several times a year. See Classes & Events Calendar
Okuden: This advanced level places emphasis on inner growth and the deeper spiritual aspects of Reiki Ryoho. Okuden training is intended for potential Teacher/Shihan candidates, and students must fulfill certain prerequisites first. However, anyone who has maintained a consistent practice with Komyo ReikiDo (including daily self-treatment and regular treatment on others) and participated regularly in Reiki-related activities (workshops, group practice nights, etc) is eligible to take training for personal growth. This class is taught once or twice a year. See Classes & Events Calendar
Shinpiden: This level is for those intending to teach Komyo ReikiDo and become a Certified Shihan (Master Teacher). Candidates must sit for an interview to discuss their practice, be certified in all levels of Komyo ReikiDo, demonstrate a deep understanding of Reiki, have consistently practiced Reiki on themselves and others, have re-sat for all levels, and complete an apprenticeship program. This class is taught when the teacher has determined the student(s) is ready.
Note: Like many other Japanese-style practices (martial arts, ikebana, kyudo, calligraphy, etc) proficiency in practice and understanding of spiritual concepts must be demonstrated in order to advance to the next level of Komyo ReikiDo training. Post-class practice exercises and assignments must be completed in order to receive certificates, and to be eligible to continue training at intermediate and advanced levels. It takes a minimum of 3-4 years to complete all requirements in order to complete Shinpiden training.
Komyo ReikiDo International and its certified Reiki Teachers are committed to training and supporting students in their personal or professional Reiki practice.
Class Schedule
November 4, 2017: Komyo ReikiDo Shoden (Level I)
January 11, 18 & 25, 2018: Komyo ReikiDo Chuden (Level II)
February 24, 2018: Komyo ReikiDo Shoden (Level I)
March 24, 2018: Konyo ReikiDo Okuden (Level III)
See the Classes & Events Calendar for more information and to register.
IMPORTANT: Please read registration and cancellation policy prior to signing up for class.
Learn more about Komyo ReikiDo.
Dana is by far one of the most practical, knowledgeable, and well rounded teachers I have had opportunity to learn from. Her dedication to traditional Japanese technique and ability to explain Eastern concepts within a comprehensive yet accessible framework is exemplary and fulfills a much-needed niche within the local alternative health community. – J.H., Atlanta
All classes will be held at the following location, unless otherwise indicated:
Dragonfly Reiki
411 W. Ponce de Leon Ave. (At Gibson Chiropractic)
Decatur, GA 30030