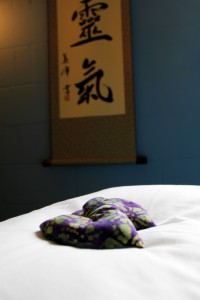 Reiki healing treatments are offered in a safe, compassionate, respectful, and non-judgmental environment. Clients are encouraged to view their Reiki treatment as part of their overall wellness journey, one that they enter into freely and take responsibility for self-care and inquiry into the resolution of their issues.
During a Reiki session, the client remains fully clothed while either laying on a massage table or seated in a chair. Other adjustments can be made to accommodate health issues or disabilities.
A series of hand positions, applied gently on or just above areas of the body, are used to sense areas of energetic imbalance and help stimulate the body's self-healing mechanisms. A quiet, deeply relaxed state is encouraged for restorative healing.
Reiki treatment is not a substitute for qualified medical care, but can safely be used in conjunction with medical or therapeutic treatment.
Distance Reiki
You can receive remote Reiki healing without ever needing to leave the comfort of your home!  Reiki, like other forms of energy (chi, prana), is an interconnected phenomena that does not rely on physical locality in order to affect its transfer or healing ability.
A distance Reiki treatment can be scheduled at a mutually convenient time. It's preferred that you receive distance Reiki at a time when you can be relaxed and undisturbed. Once a distance Reiki session has been set, you will receive an email or text confirmation before the session to let you know it is beginning, and after the session to offer feedback and address any questions you may have. I have offered remote healing to people worldwide for years with very good results.
Benefits of Reiki treatment
Reiki treatment is effective for addressing the following issues or conditions:
Relieving stress and anxiety
Improving overall well-being
Minimizing discomfort from acute or chronic pain conditions
Reducing recovery time from injuries or surgery
Setting healthier habits
Supporting emotional and spiritual healing
Individual healing response may vary, although people who are addressing a specific issue usually experience positive results in a shorter period of time with a series of regular (weekly or at least twice a month) sessions until improvement is noted.
Note: I cannot diagnose conditions or illnesses, nor provide psychological counseling, but I may suggest that clients seek out qualified medical or therapeutic care if a situation appears to require additional assistance beyond what I can offer.
Fees
90 minute Reiki treatment: $100
60 minute Reiki treatment: $85
30 minute Reiki treatment: $45
Reiki treatment for children (recommended for children from birth to 8 years): $30
30 minute Distance Reiki treatment: $45
All sessions include an additional 15-20 minute consultation to discuss issues, healing goals and lifestyle recommendations to support your well-being. Clients who book sessions regularly (at least twice a month) will receive a 10% discounted rate to help support their healing goals. 
Gift certificates available for all offerings. Use the contact form to place an order for a customized electronic or paper gift certificate.
Military veterans receive 10% off on all Reiki sessions. Thank you for your service!
Note: Care facility visits (local hospitals, hospice, etc) may be considered on an individual basis, depending on situation and availability. City of Atlanta/Decatur area only. An additional $20 will be added to cover time and transportation costs. Please use the contact form to make inquiries.
Payment options
You may pay in person by cash, check or credit/debit card.  When you book online (see link at top of page) you will be required to reserve your session with a credit card, but will not be charged at the time of booking. Payment will be collected in person at time of service. Distance sessions will be invoiced via Paypal.
Do you have a Health Savings Account (HSA)? Many providers will reimburse you for certain therapeutic treatments. Pay for your sessions at the time of service and request a receipt to submit to your HSA for reimbursement. 
Cancellation policy
A minimum of 24 hours' notice is required if you must cancel or reschedule your session. Sometimes things come up unexpectedly, so please contact us as soon as possible if there is a conflict. Otherwise, you may be charged a missed appointment fee ($25 unless otherwise specified.)
Schedule your session online or use the contact us form.