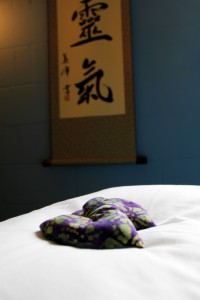 Reiki healing treatments are offered in a safe, compassionate, respectful, and non-judgmental environment. Clients are encouraged to view their Reiki treatment as part of their overall wellness journey, one that they enter into freely and take responsibility for self-care and inquiry into the resolution of their issues.
During a Reiki session, the client remains fully clothed while either laying on a massage table or seated in a chair. Other adjustments can be made to accommodate health issues or disabilities.
A series of hand positions, applied gently on or just above areas of the body, are used to sense areas of energetic imbalance and help stimulate the body's self-healing mechanisms. A quiet, deeply relaxed state is encouraged for restorative healing.
Reiki treatment is not a substitute for qualified medical care, but can safely be used in conjunction with medical or therapeutic treatment.
Distance Reiki
You can receive Reiki healing without ever needing to leave the comfort of your home!  Reiki, like other forms of energy (chi, prana), is an interconnected phenomena that does not rely on physical locality in order to affect its transfer or healing ability.
A distance Reiki treatment can be scheduled at a mutually convenient time. It's preferred that you receive distance Reiki at a time when you can be relaxed and undisturbed. Once a distance Reiki session has been set, you will receive an email or text confirmation before the session to let you know it is beginning, and after the session to offer feedback and address any questions you may have.
Benefits of Reiki treatment
Reiki treatment is effective for addressing the following issues or conditions:
Relieving stress and anxiety
Improving overall well-being
Minimizing discomfort from acute or chronic pain conditions
Reducing recovery time from injuries or surgery
Setting healthier habits
Promoting emotional healing
Individual healing response may vary, although people who are addressing a specific issue usually experience positive results in a shorter period of time with a series of weekly or twice-weekly sessions. (Traditionally in Japan, people received Reiki treatment daily until their issue was resolved or alleviated!)
Healing is not a matter of technique or mechanism; it is a work of spirit. – Rachel Naomi Remen
Note: I cannot diagnose conditions or illnesses, nor provide psychological counseling, but I may suggest that clients seek out one or more of the following if their situation appears to require additional resources, or if they request guidance:
Medical attention or evaluation from a qualified professional
Complementary and Alternative Medicine (chiropractic, acupuncture, naturopathy, etc.)
Life coaching
Pastoral counseling (or similar spiritual counseling)
Mindfulness practices (yoga, meditation, affirmations, etc.)