Reiki Workshops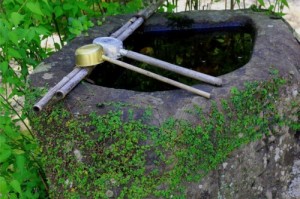 Deepen Your Reiki Practice is a series of in-depth workshops designed for Reiki practitioners at all levels and all lineages to support ongoing learning.
In these workshops, we explore topics, tools and practices associated with Reiki Ryoho within a group setting. Topics are repeated yearly, and new ones may be added.
Emphasis is placed on traditional Japanese-style Reiki practice. I encourage Western-style Reiki practitioners to attend in order to broaden their understanding of the Japanese spiritual roots of Reiki practice as well as learn traditional healing techniques and meditation practices not commonly taught in some Western Reiki lineages.
In-class workshops may include group practice time sharing Reiki. Spiritual blessing (reiju) is also offered.
Reiki Meditations to Raise Your Energy
Learn the basic concepts associated with the Japanese energetic system and how you can boost your energy for increased vitality and good health. This workshop is offered as part of "Deepen Your Reiki Practice" series to support practitioners in their understanding of Reiki healing.
As part of this group experience, you will learn how to strengthen and enhance your connection to ki (chi) and your Original Energy, including:
Reiki breathwork
Reiki meditations
Chanting the Reiki Precepts
Group healing
Practitioners from all lineages and levels are welcome to attend. Class is limited to 6 participants.
Date: Saturday, April 16, 2016 (12:30 PM – 5 PM)
Fee: $40
Location: 411 W. Ponce de Leon Ave. Decatur, GA 30030 (at Gibson Chiropractic Clinic)
Deepen Your Reiki Practice Intensive!
This intensive 4 week series explores some of the major topic areas, and can be taken as a full course or on a drop-in basis (space permitting).
Week 1 (7 – 9 PM): Exploring the Reiki Precepts
Week 2 (7 – 9 PM): Reiki Meditations & The Japanese Energetic System
Week 3 (7 – 9 PM): Traditional Japanese Reiki Healing Techniques
Week 4 (7 – 9 PM): Mental/Emotional Healing & Distance Healing – for Level II and above
Pricing: $80 for the series or $25 drop-in rate.
Dates: TBD
"Reiki awakens the natural powers we all possess but which lie dormant, untapped." Tadao Yamaguchi
Reiki Essentials: The Spiritual Medicine of the Five Precepts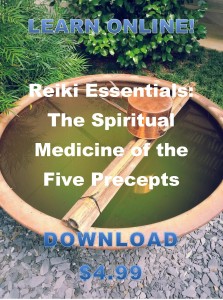 The Five Precepts were included in the system of Reiki Ryoho (Reiki Healing Art) by its founder, Mikao Usui, to help students foster a spiritual approach in their daily life. Usui called the Five Precepts the "spiritual medicine to cure all diseases." We will explore each of the Five Precepts and how they can support your Reiki practice and spiritual growth.
This webinar recording is available to all Reiki practitioners of any lineage or level. Interested participants who are not trained in Reiki Ryoho may also participate, as these spiritual principles are applicable to all.
Fee: $4.95 (reg $9.95) Use discount code PRECEPT1 at checkout to receive reduced pricing.
Reviews of "The Spiritual Medicine of the Five Precepts":
"Reiki practitioners of all levels and backgrounds are really starved, I think, for this kind of experience. It seems that no matter how long a Reiki training class is, there is just never enough time to really experience the Precepts fully. And, since it is an ongoing practice, we all can use a "jump start" because we, as humans, can sometimes lose focus on the essential parts of our practice. I am looking forward to working with the teachings you so beautifully and sensitively presented in the video." – Elise Brenner, Brenner Reiki Healing
Image credit: Tumblr